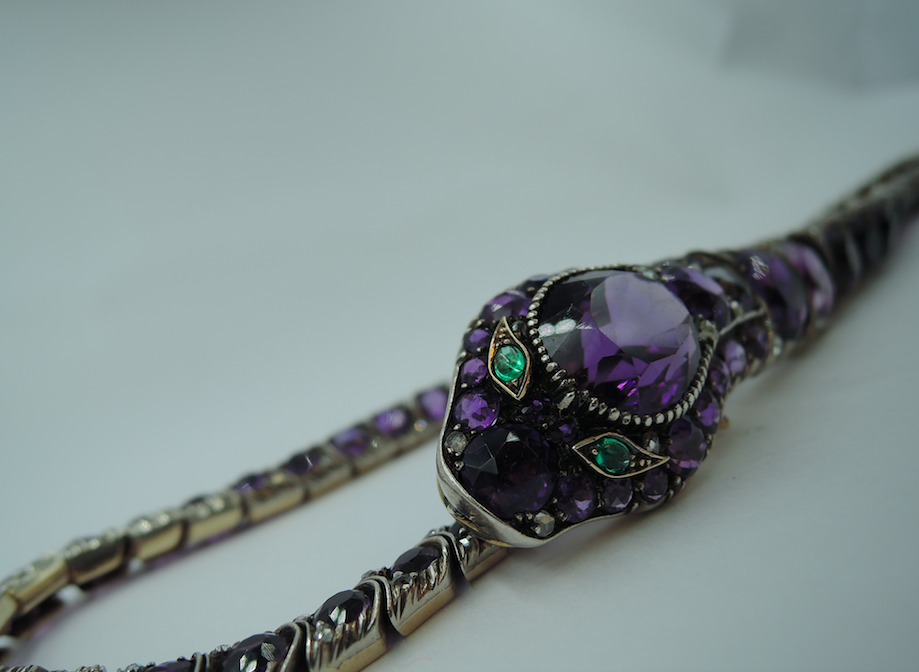 Mystery snake necklace from Lakeland house sells for £22,500 at jewellery auction (Sunday 4 July)
5th July 2021
A mystery amethyst snake necklace, from a house in the Windermere area, has made well over its estimate at an online jewellery auction, selling for £22,500 yesterday (Sunday 4 July).
The fabulous jewel-encrusted snake was put up for sale by family members who never knew of its existence until the house was emptied when its owner died explains 1818 Auctioneer's silver and jewellery valuer, Jackie Rothwell.
Jackie says the early 20th-century serpent collarette necklace is covered with amethysts on articulated links which give its slithery appearance. The head of the snake has emerald eyes and is covered in amethysts and rose-cut diamond chips.
Tested as being of gold and silver it was sold in its original case with a receipt from Byworth Antiques, London dated 1974.
Jackie is delighted with the results and says it went to a trade bidder at well over its original estimate of £5,000 to £8,000.
"The family who is selling it say they've never seen it being worn or know how the owner came to have it," says Jackie.
"Serpent jewellery became very popular in the Victorian era when Prince Albert gave Queen Victoria a snake engagement ring with an emerald, her birthstone, embedded in its head. People began to associate the snake motif with eternal love. The popularity of this type of jewellery continued through to the 1920s as it matched the fluid lines and animal motifs of the Art Nouveau period.
"Snake jewellery was designed to wrap around fingers, wrists and necks and many, like this necklace, close with the mouth of the snake around the tail end. Designed as flexible coils they look like they are slithering around wrists or necks," adds Jackie.
1818 Auctioneers will be holding a jewellery valuation day on Wednesday 21 July at J36 Rural Auction Centre, just off J36 of the M6, in the Exhibition Hall. For more information call 015395 66201.