Rare items given to a South Lakes family, by Alfred and Betty Wainwright are up for auction this month with 1818 Auctioneers.
Estimated to make over £4,000, they include a thank you card, a set of Lakes and Lune Water Board illustrated accounts for 1973 and a pension form. There is also a Wainwright sketch of Bowness Bay – signed almost 40 years later by Wainwright and given by him to Mike Duff, a signed Wainwright map which AW gave to Percy Duff and a signed copy of his Coast to Coast book.
They have been entered into 1818 Auctioneers picture sale by the Duff family, as valuer David Brookes explains:
"Percy Duff was a good friend and colleague of Alfred Wainwright, taking over from AW as Borough Treasurer of Kendal in 1967. Percy also took over the role of treasurer of the Lakes and Lune Water Board from Wainwright in that year.
"Up for sale is a rather unusual and creative set of accounts produced by Wainwright including an illustration of the Langdale Pikes, not something you'd expect to find in such a ledger. And there's a Lakes and Lune Superannuation Scheme form for Paul, signed by Wainwright.
"In 1991 AW gave a Coast to Coast book to Percy to pass on to his son Paul as a birthday present. He added his signature when Percy visited him in hospital in January of that year, making it probably one of Wainwright's last," adds David Brookes.
Alongside the items is a card from Betty to Percy's son Paul.
"On AW's death, Betty asked Percy to help scatter the ashes on Haystacks," says David Brookes.
"As both Betty and Percy were in their seventies, they asked Percy's sons, also friends of AW, Michael and Paul to carry his ashes. As a gesture of thanks, Betty gave each of the sons an original drawing, with a note of thanks. Paul chose the picture of the Langdale Pikes which featured in the illustrated accounts. Betty's note reads- 'For Paul in memory of AW, Thank you for your help on the 22nd March'91, with love.'"
Alfred Wainwright MBE was a British fellwalker, guidebook author and illustrator who moved to Kendal in 1941 from his Blackburn home. David Brookes says the firm has seen rising interest in Wainwright sketches.
"Last June we saw a record price paid in the saleroom for a signed drawing of Striding Edge, Hellvellyn – when it made £10,200. And his popularity is far from waning perhaps fuelled by a new found respect and appreciation of the great outdoors, because of the Pandemic. From what we've seen in the saleroom people share his love of the mountains."
All four lots are being offered up as part of 1818 Auctioneers online picture sale, with live bidding between Thursday 20th May until Sunday 6th June.
---
Lot 850
A pen and ink sketch, Alfred Wainwright, Bowness Bay – drawn in the 1940's, signed and titled in 1990, during vendor's visit to AW's home, 16 x 19cm, plus frame and glazed, – this and next 3 lots, consigned by vendor who helped scatter AW's ashes
Auctioneer's estimate: £1,500-£2,000
Lot 851
A printed map, Alfred Wainwright, Westmorland 1974, signed 50 x 60cm, plus frame and glazed, given to vendor by AW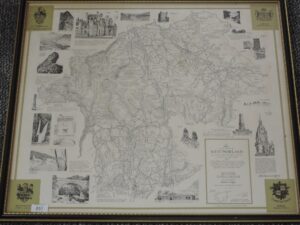 Auctioneer's estimate: £100-150