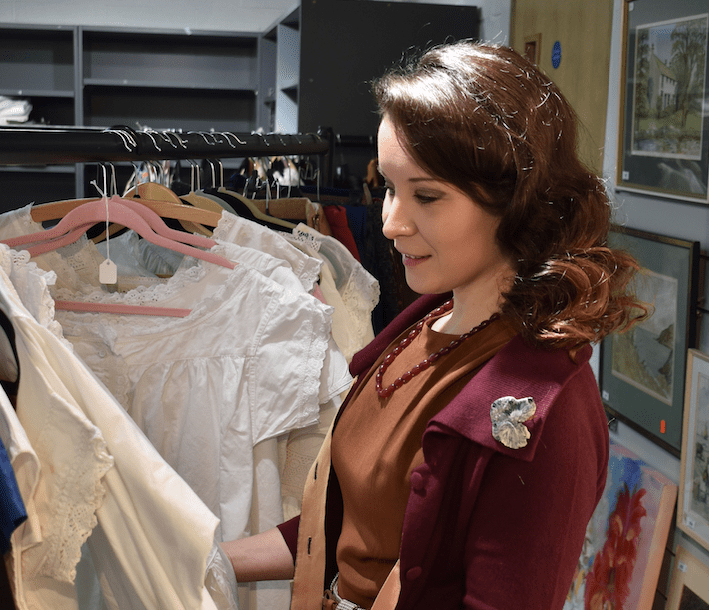 The appeal of vintage textiles
27th April 2021
Restrictions, lockdowns and general segregation from friends, family and loved ones, have shown us that it's more important than ever to remain kindly towards others, and towards
ourselves.
Interests and hobbies can play a big part in our wellbeing; some we've been able to continue with and others we've had to put on hold. Dancing, attending vintage events, re-enactments and classic car shows, and socialising are all things I sorely missed – especially the 'dressing up' part of them all.
But once we found we could re-open the auction house, with care, after the initial March lockdown, I found myself treating work as a grand day out! Those that know me (customers,
colleagues, or the delivery driver who turned up involuntarily after his sat nav misdirected him) will know that I enjoy dressing in vintage clothes. They're smart, sustainable, unique…I could go on and on.
Prior to 2020, I was relatively subtle, wearing a 1950s sundress here, perhaps a 1940s suit there for a valuation. But the pandemic has led to me taking great delight in pressing my Sunday best 1930s dress and teaming it with my museum-quality coats just to unpack dusty boxes and dig for treasures at work.
I often hear, 'Oh, what's Annia decided to wear today?' and I'm met with an outcry on the rare occasion I oversleep a little and wear my jeans (smart, I will hasten to add dear reader, and 1950s-inspired). Me wearing a piece of history brings a little sunshine to other people's days, as it does to mine.
Some of the restrictions meant we were unable to take clothing and textiles from occupied properties to sell at auction. Yet our specialist textile auctions realised some amazing prices thanks to the items in our store cupboards. A quilt made £720, a lovely lot of lace and crochet soared to £290 and many, many more lots sold beyond their top estimates. It all confirms the appeal of vintage textiles.
As we move towards more normal circumstances all the signs are that vintage styling will continue to grow in its appeal, in both homes and in wardrobes. If you have a mind to
rummage in your attic, look out for nana's vintage table linen, auntie Mabel's art deco lingerie, great grandad's best top hat, or uncle Bill's 1940s suit.
I can't wait to receive them. And I am so looking forward to selling them on your behalf and giving you the best possible result.