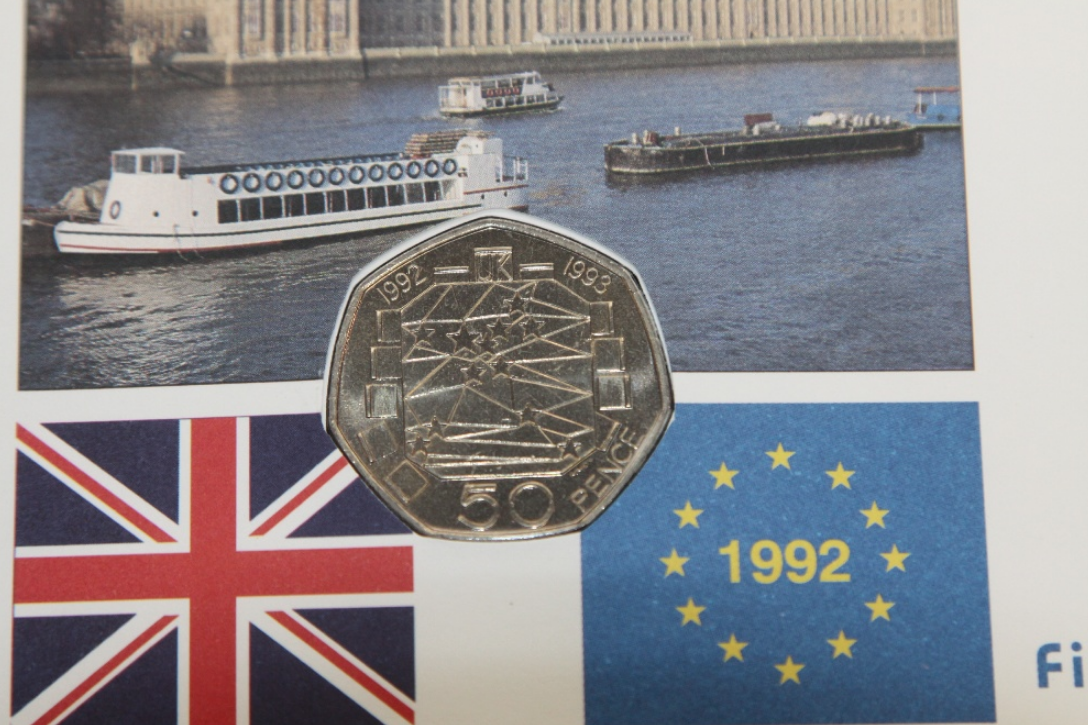 1992 British Presidency of the European Union commemorative numismastic cover at auction
8th July 2023
Philatelic, Numismatic, and Medallic cover collections provide a popular crossover for stamp and coin collectors.
In 1993, Royal Mail and Royal Mint prepared a commemorative cover for the 40th Anniversary of the Queen's Coronation. The cover displayed the £5 commemorative coin and the £10 Britannia stamp, which is, to date, still Great Britain's highest denomination on a postage stamp.
So began a series of Philatelic Numismatic Cover (PNC) collaborations between Royal Mail and the Royal Mint. In a 'purists' world of philately, these are said to be the "official" covers. There are, however, many others produced by private companies such as Benhams or Westminster, and many of these are also sought after.
Among coin covers, there are a couple of standout items attracting high market demand currently. Most famously, the 2009 Kew Gardens 50p. Interestingly, there is actually a much scarcer 50p coin cover that is often overlooked, and it features in our Collectable Stamps, Cigarette Cards, and Postcards 6 auction.
Lot 1821 dates from 1992 and was the second commemorative 50p ever issued by the Royal Mint. It was issued for the British Presidency of the European Union. Only 109,000 of this coin were ever minted. When you compare that number to the 210,000 mintings of the 2009 Kew Gardens 50p, you can see why we are excited to be offering one of these numismatic covers at auction.
Adding extra interest and rarity to the item is its size. The 1992 50p was minted in the larger 30mm format, which was withdrawn from circulation in 1997.
Lot 1821 is part of a larger group of numismatic covers and there are others of interest. Lot 1801 depicts the Elton John miniature sheet issue of 2017. Bearing in mind he purportedly performed for the final time in the UK at Glastonbury this year, it may be one to tuck away for the future!
Also on offer are many vintage European collections and some large cover collections. Who said stamp collecting is boring? It always keeps us on our toes.