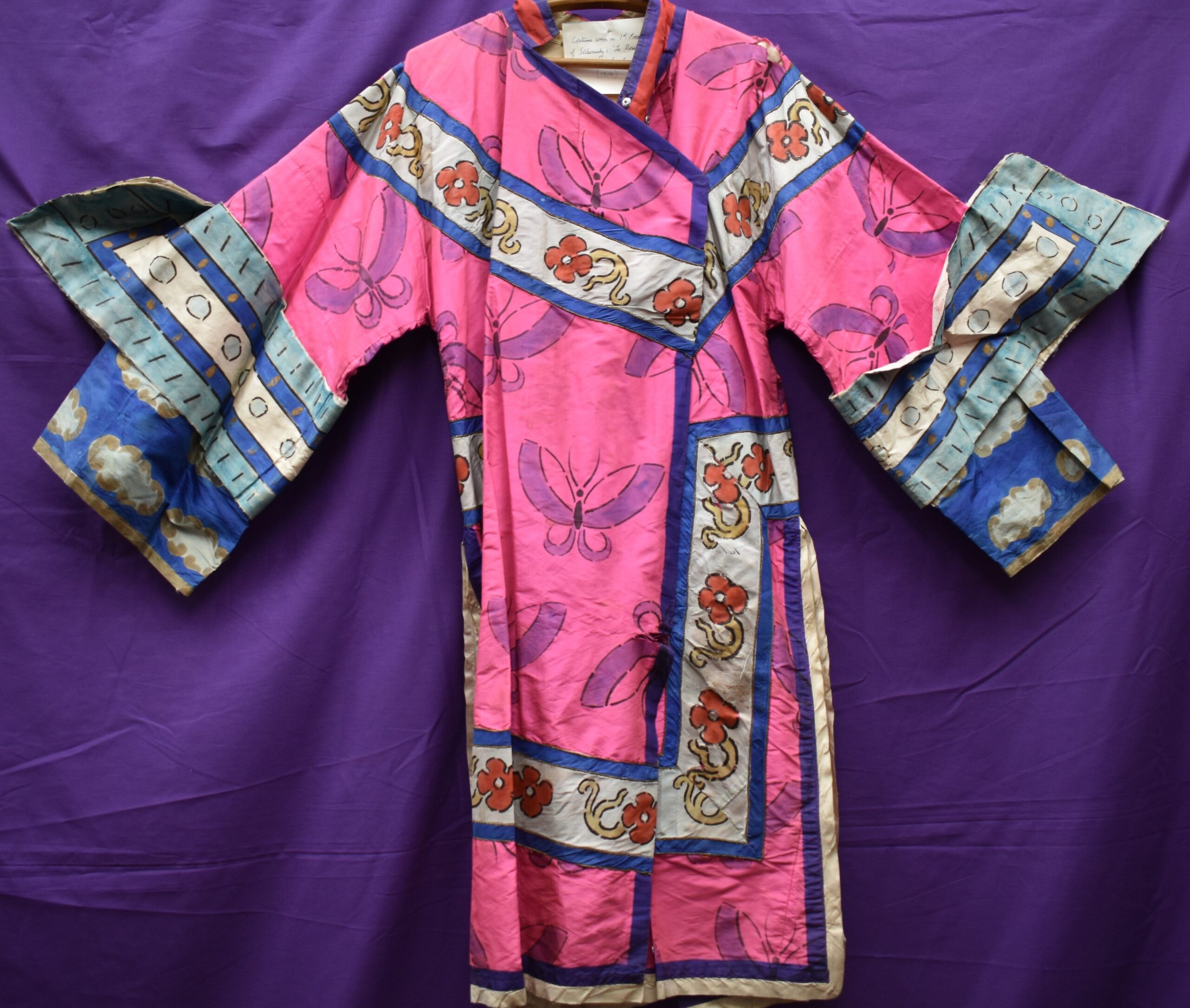 Stage Set for Theatrical Auction
21st July 2022
A rare and unusual theatre-linked collection is up for sale this month through 1818 Auctioneers on the Cumbria Lancashire border.
It belongs to octogenarian Walter Johnston, from the Furness Peninsula, who performed on the London stage and later lectured on musical theatre, literature and antiques.
Over 30 lots from Walter's collection, form part of a 232-lot online auction that closes at 7 pm on Sunday 31 July.
Valuer Annia Zalewski, 1818 Auctioneer's textile expert says there are some truly unique items, making valuing their worth tricky. As Annia explains:
"For instance, there's a vibrant hand-painted silk costume from Strawinsky's 'le Rossignol' at Covent Garden. Thought to be from the first production and painted by Matisse. It could attract bids of between £800-1,200, but it could easily make much more.
"There's also a rare folio of 10 black, white and gold prints depicting the early 20th century legendary Polish-born Russian ballet dancer Vaslav Nijinsky. I've valued that at £600-800.
"And a pair of ballet shoes said to have been worn by Margot Fonteyn, accompanied by five postcards showing the iconic British ballet dancer, could go for £400 to £600.
"It's a very special collection," adds Annia. "Walter's school friends may have had a hand in helping him to amass it. Edward Mariam and Victor Hackett worked in the costume department at Covent Garden Theatre and Victor went on to become a renowned designer and costume maker.
"It's already attracting lots of interest and Walter is keen for these unique items to find a new home," adds Annia.
The Vintage and Retro Textiles auction also includes (not from the collection) two pairs of late 19th-century Chinese lotus shoes, for bound feet, with an estimate of £300-500. Plus a striking late 1940s taupe-coloured embroidered tulle dress with a statement collar which could sell for £120. As well as 1950s day and sun dresses by designers.
Anyone interested in viewing the sale can head to the saleroom between 10 am and 2 pm on Wednesday, Thursday and Friday. Or speak to Annia at the saleroom by phoning 01539 566201. People can also view the sale and make bids online. View the catalogue.
About Walter:
After completing his National Service in the Royal Army Medical Corps, Walter stayed in the south to study at Harefield Hospital. But he was also drawn to the theatre and to acting and was trained in singing and dancing at the Guildhall School of Music and Drama. Walter went on to perform at the 20th Century Theatre and the Rudolph Steiner Theatre. Also an expert in literature, antiques and musical theatre he lectured for Lancashire and Cumbria colleges. Walter gave TV interviews too. For ITV Granada in 1966 on the Furness Abbey Mystery Plays, in which he appeared. In 1968 ITV Border interviewed him as a ceramics expert, as did ITV Thames in the 1980s on Josiah Wedgwood. At the age of 80 in 2016 he retired from lecturing having visited 336 towns, villages and cities in nine countries.