The picture auction at 1818, ending 26th June, saw results across the board.
The top sellers included traditional 19th century watercolours and oil paintings, perhaps indicative of increased interest and a return to favour of classic pictures. 1818 always has a good selection of these at prices to suit all pockets.
On the opposite spectrum, lot 1464, a 20th century stylised unsigned print, saw interest to sell at £50.
Popular as ever were the works of Alfred Wainwright, with lots 1476 and 1477, prints selling well at £75 for two, boding well for some Wainwright originals available for bidding in the auction currently online, ending on the 10th July.
---
Lot 1429
A Reginald Smith, (1871-1934), a watercolour, Spring-time Buckden, signed
Sold: £460
Lot 1461
Henry Lindsay, (20th century), four watercolours, still life, initialled, num and dated 1951/2, 56 x 38, framed and glazed, 63 x 46cm, (2), 37 X 46cm, framed and glazed, 43 x 52cm, and 55 x 37cm, framed and glazed, 63 x 44cm, and an oil painting, still life, 49 x 39cm, framed and glazed,
Sold: £115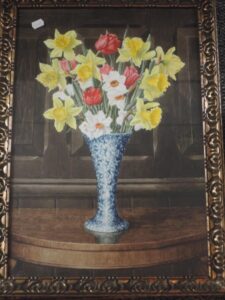 Lot 1423
John Brunsden, (contemporary), after, a Ltd Ed print, Dale, signed and num 6/75
Sold: £90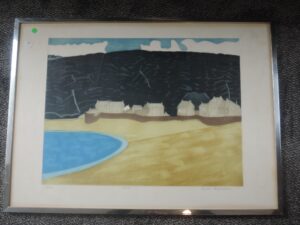 Lot 1405
(19th century), an oil painting, naive, Lakes landscape
Sold: £80
Lot 1414
(19th century British), a watercolour, figures in landscape
Sold: £80