This week saw the sale of several Wedgwood collections, all in the Jasperware style; a technique developed by Josiah Wedgwood in the late 1700's. It is an unglazed form of pottery often called biscuit, due to it's dry looking finish as opposed to wetter looking gloss glazes more typical of the time. The ground or base is overlayed with sprigs of white decorations often in classical designs. It became popular shortly after it's release, copied by several potteries and manufacturers who put their own spin on the technique. Wedgwood still produce the Jasperware line to this day and it can be found in an array of colours.
This week we sold an urn (lot 12) in the traditional Wedgwood blue colourway. This and other auction highlights follow.
---
Lot 12
An early 20th century Wedgwood Jasperware twin handle and lidded mantle urn with Grecian design
Sold: £160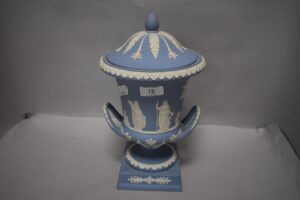 Lot 95
A 1950s Singer sewing machine, model 222K, serial number EK326470, with original case and manual etc
Sold: £400
Lot 213
Six advertising bottles including stoneware Ginger beer bottle of Kendal interest and codd bottle of Ulverston interest.
Sold: £390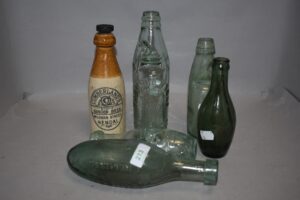 Lot 205
A selection of vintage cut and pressed glass including tumblers,cake plate,decanters and more.
Sold: £350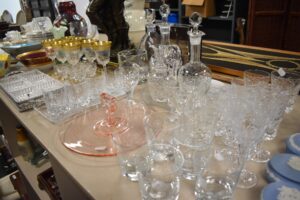 Lot 3
A 17th century Georgian carriage clock French made bearing name Y Rovas A Paris in ormolu case with chase work design
Sold: £250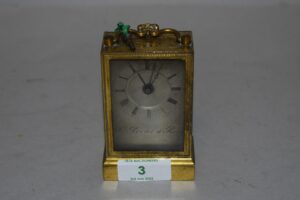 Lot 39
A pair of modern Leitz Trinovid binoculars with case in very good condition
Sold: £250