Hammer highlights from the Antique Vintage and Later Furniture and Furnishings 19 auction, which ended Sunday 24th July.
---
Lot 1303
A Victorian tilt top tea table by Gillows of Lancaster having ornate parquetry veneer top with carved tripod base with acanthus style cabriole feet
Sold: £2,000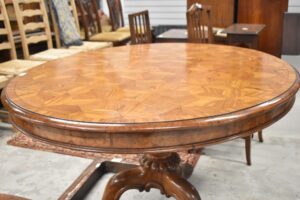 Gillows of Lancaster and London was founded in 1730 (approx.) by Robert Gillow, and owned by the family until Redmayne, Whiteside and Ferguson took them over but continued to use the Gillows name.
Gillows name was a byword of quality and were the standard bearer for other furniture makers to follow. Even having mentions from Jane Austin, Thackery as well as another from Gillbert and Sullivan in HMS Pinafore. Josephine, Captain Corcoran's daughter, sings of "papa's luxurious home" full of "rich oriental rugs, luxurious sofa pillows, and everything that isn't old, from Gillows."
In 1903 Gillows merged with Waring of Liverpool to become Waring and Gillows another name synonymous with quality.
The quality Gillows furniture is still sought after by buyers today as with the table above. If you have a quality piece of furniture why not talk to our Furniture Valuer Kevin Kendal.
Lot 1242
An early 20th Century baby grand piano, by Chappel and Co Ltd.
This piano was commissioned by the owners grandfathers friend who had been appointed as tea plantation manager in Ceylon pre World War One. He sadly died before leaving the UK however and the piano has been in the current owners family since the 1920s.
It bears a label "Manufactured expressly for the Climate of Ceylon to the Order of H W Cave & Co" and has an iron frame designed to prevent warping of the wood in the warm climate.
Sold: £640
Lot 1216
19th century mahogany long case clock having gothic form with dial for E Burton Kendal
Sold: £250
Lot 1261
A custom built tandem bicycle, by Arthur Caygill, with Reynolds 531 Designer Select frame, Brooks leather seats, Shimano Deore XT gearset, other components include Specialized etc. It is obvious on first view that this bike has been well made and cared for and hardly a mark on it despite its many happy miles including a LEJOG (Lands End to John O Groats). Cover is included.
Sold: £250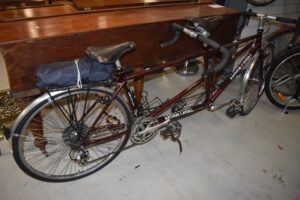 Lot 1191
A 19th Century mahogany long case clock having 8 day movement and painted dial, named Ormskir, believed to be John Rothwell (1824-1834)
Sold: £240