The picture auction held at 1818, ending 29th May, showed that traditional paintings, be they watercolour or oil paintings, are still very much in favour.
Leading the way was Lot 409, a watercolour, from the hand of W G Collingwood, of the Coniston Fells, selling at £980, a good price as the last Collingwood offered, sold in the low hundreds.
The traditional painter Arthur Tucker was also in demand with several selling at good prices, as shown.
In total contrast, Lot 460, three Japanese prints sold well at £100.
---
Lot 409
W G Collingwood, (1854-1932), a watercolour, Winter Sunrise Coniston Fell, signed and attributed verso
Sold: £980
Lot 447
Arthur Tucker ( 1864- 1929), Eastern estuary, signed
Sold: £155
Lot 456
Fred Cecil Jones (1891-1956), a watercolour, Gressingham Nr Kirkby Lonsdale, signed and dated 1921, and attributed verso
Sold: £150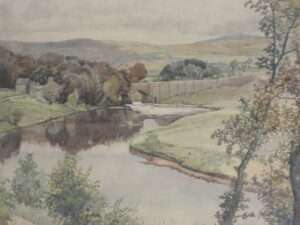 Lot 443
Arthur Tucker, (1864-1929), a pair of watercolours, moorland landscapes, signed
Sold: £130
Lot 454
Arthur Tucker (1864-1929), a watercolour, Richmond castle on the hill, signed
Sold: £125