The second sale of the year had 96 lots entered with 91 selling within or above estimate, Coins are very collectable at the moment with Gold Coins exceeding the commodity price, while we have conflict in the world Gold will always be a safe haven for investors and collectors.
Away from the Gold the most sought after item was Lot 433 A Queen Mary 1553-1554 Silver Groat, after many bids the lot hammered at £310, this early Coin was in excellent condition and attracted many bidders.
Included in the sale was lot 429 A United Kingdom 2009 Kew Gardens 50p Coin this coin had been in circulation and still achieved a hammer price of £85.
Over the years, the coin has been issued in a huge range of commemorative editions celebrating every aspect of British culture, from athletes to authors. The sheer variety has sparked a collecting craze but of all the 50p coins, the Kew Gardens 50p is arguably the most sought-after. Nothing gets people excited quite like this original 2009 design. Just 210,000 were released into circulation and with almost all of them in private hands, the chances of coming across one in your change are slim.
The venerable institution depicted on the Kew Gardens 50p coin is the nation's most famous royal botanical garden. The reverse design, created by Christopher Le Brun RA, features the famous Chinese Pagoda at Kew with a decorative leafy climber twining in and around the tower. Demand for the 50p denomination was not high at the time of release into circulation which explains the low mintage of this particular design.
We also had Lots 445 & 446 A Royal Mint United Kingdom Brilliant Uncirculated 2009 Coin Collection, 11 coins including 2009 Kew Gardens 50p. These both sold for £250 & £240.
The Next sale already has a large collection of modern coins included and entries still being accepted.
Contact David Hunter for more information.
---
Lot 422
A United Kingdom George II 1745 Gold Guinea, Crowned Shield Back Reverse
Sold: £2,700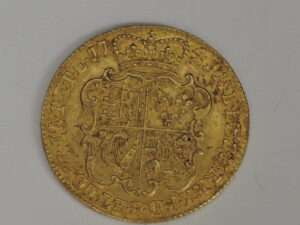 Lot 426
A Canadian Elizabeth II 1987 Maple Leaf 1/2 Ounce Gold $20 Coin
Sold: £640
Lot 449
Ten United Kingdom Brilliant Uncirculated Coin Set, 2010-2021, missing 2015
Sold: £430
Lot 458
Six United Kingdom Royal Mint Annual Coin Sets, 2013-2018
Sold: £410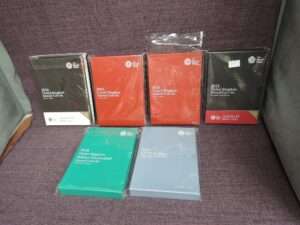 Lot 404
A United Kingdom Edward VII 1902 Gold Sovereign, no mint mark
Sold: £330