Our top selling lot from this week was discovered in the back of a garage, an item the vendor had suggested they would take to the tip.
I always like to check the garages and sheds of properties as items can often lay there for many years undiscovered, often called barn finds untouched and unseen.
The item in question was a set of tiles made by William De Morgan, an arts and crafts pioneer who at the time was good friends with William Morris.
Always popular the arts and crafts movement is deeply rooted with the Lake District as manufacture and art centres were a popular past time for well to do Victorians.
We often have arts and crafts examples in our weekly sales from the School of Industrial arts, Lancastrian pottery or even furniture by Arthur Simpson. So keep your eyes peeled and you could own a piece of timeless history too.
---
Lot 127
A good collection of seven Victorian era arts and crafts ceramic tiles by William De Morgan in the BBB Blue pattern
Sold: £540
Lot 240
Eight genuine vintage film movie quad posters for cult fantasy and action interest including Hawk the Slayer, Firefox, Condor man, You can't win em all, S.O.B, Escape from New York, Dragon slayer and Seawolves
Sold: £420
Lot 236
Two 20th century tool boxes both marked for N. Pickthall containing a number of woodworkers engineers and cabinet makers tools a good assortment of quality items
Sold: £260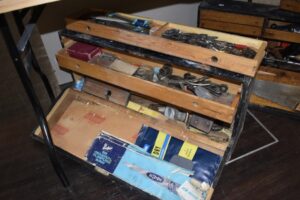 Lot 30
An ormolu framed and glass chandelier light pendant having lustre glass droplets
Sold: £230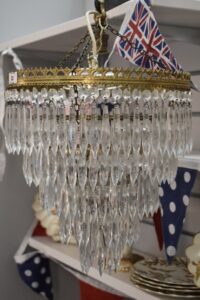 Lot 143
A vintage six branch candelabra having cut glass frame with lustre droplets
Sold: £175