This week we had on offer two knitting sticks; wooden carved sticks that have a collectable market of their own as well as with collectors of treen items.
They had a particular local appeal too as they were widely used by the 'Terrible Knitters of Dent'. The sticks held the four needles when knitting socks and were tucked into the belt, which allowed the knitter to knit standing and knit faster. It's the speed that earned the Dent knitters their nickname – with terrible being used as a compliment – like the modern term 'wicked'.
---
Lot 100
A selection of silver plated metal wares including tankards, teapots and fruit bowls
Sold: £350
Lot 90
An arts and crafts style Bretby jardiniere and stand 87cm tall approx having copper effect finish
Sold: £250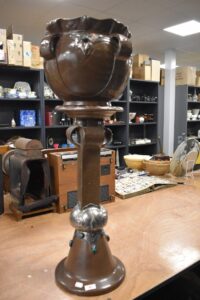 Lot 70
A oak book trough in the Robert Thompson styles having mouse to side.
Sold: £220
Lot 35
A late 19th century Chinese cast-bronze temple censer, of circular form with dog of foe form finial over the domed and pierced cover with rope-twist divisions, the base with archaic style mouldings and three conforming feet.
Sold: £200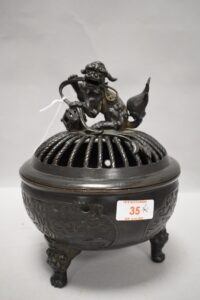 Lot 64
A Chinese bronze temple censor or incense burner of plain form with three footed base bearing seal mark
Sold: £200