Hammer highlights from the Vintage and Retro Toys and Models including Railwayana 3 auction, which ended Sunday 22nd May.
We had the pleasure of cataloguing and selling two excellent single owner collections, many bidders from around the world with a busy Sunday evening of bidding with the sale total doubling from 6pm to the finish of the sale at 8pm.
The first was a 43 lot 1970's and later Kenner LFL Star Wars collection. The interest in Star Wars collectables just gets stronger and stronger, with many younger collectors coming into the market to enjoy and invest in this ever-growing market, with highlight lots being:
---
Lot 693
A collection of early rare Star Wars figures including Yoda, Storm trooper luke and Han Solo carbonite.
Sold: £2,550
Lot 715
A good collection of various original Star Wars figures most having weapons and accessories.
Sold: £1,120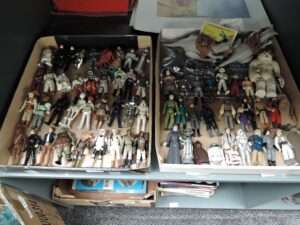 Lot 684
A collection of Ewok figures with boxed Glider and catapult.
Sold: £500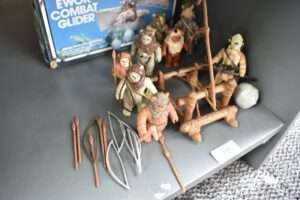 The second collection was a 88 lot collection of 1:50 scale Construction Diecasts, many of these had been imported from America and in mint condition:
Lot 720
A TWH Collectables 1:50 scale diecast, Bucyrus 495HF Mining Shovel, Syncrude, in original polystyrene packaging, inner box and outer box TWH011 30926.
Sold: £760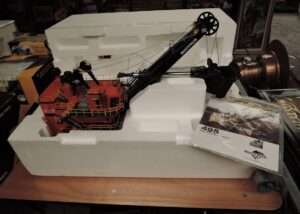 Lot 689
A ASAM 1:50 scale diecast, Le Tourneau L2350 Wheeled Loader in yellow, in polystyrene packaging and in outer card box 102 with missing parts claim form.
Sold: £680
Lot 753
A Hi Mo Bo 1:50 scale white metal model, Komatsu D575 A SR in yellow, in polystyrene packaging and in card box.
Sold: £420
Many others at similar price with almost a total clearance with all prices exceeding expectations
Outside the two collections we had many varied lots including:
Lot 645
Four original Sasha Dolls, Girl wearing blue cheque shirt and shorts with white sandals, no tag, Boy wearing blue jumper, light blue trousers and blue sandals, with original tag, Baby wearing white gown, with original tag and Girl wearing red jacket, brown trousers and white shoes, no tag, original booklets present.
Sold: £1,260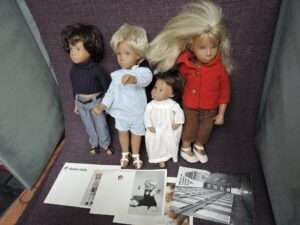 Sasha Dolls were produced from 1966 to 1988 in Stockport, the original design was made by Sasha Morgenthaler from Zurich, brought over to a old cotton mill in Houldsworth Street and manufactured, now they have become highly collectable, included in this lot was a Sasha Doll without Philtrum, possible produced in 1967, not many of these dolls were made.
Lot 717
A Railway Station Bench from Doncacster Railway Station, with original iron frame and name plate, replacement pitch pine seat and back boards.
Sold: £450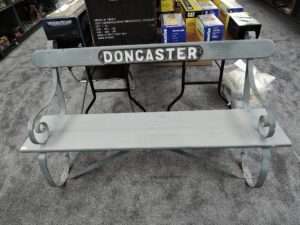 Lot 631
A Shackleton diecast scale model, Foden FG6 Tipper, green body and cab, red chassis, in original box, damaged, front wheels off but present, middle axel off but present.
Sold: £280
Entries are now being excepted for the next auction.