Another lot of marvellous results were achieved again in the textiles sale Sunday past.
A large amount of the items had come from a local estate of whom the occupant had been an antiques dealer, with some really high quality items being put into the sale.
Among these were some rarer treasures, some stunning Kimonos, a 1930s Liberty of London dress and some of the most beautiful shawls we have had the pleasure of selling.
Please give us a ring if you are unsure of the value of your textiles, we will always be happy to visit and advise you more where we can, out top five lots were as follows…
---
Lot 717
An early 1900s incredibly decadent red and cream wool shawl lined in cream silk having incredibly intricate gold thread embroidery with tulle lace to hem,'Portier, Lower Seymour Street, London.
Sold: £340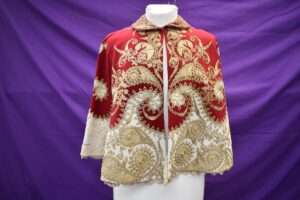 Lot 606
An exquisitely embroidered antique Chinese silk jacket in pale blue and black with pastel butterfly and flora detail.
Sold: £220
Lot 719
Five bright 1960s and 70s maxi dresses, vibrant patterns and designs
Sold: £200
Lot 705
A richly embroidered early 20th century blue kimono dressing gown having incredible floral detail to reverse and sleeves.
Sold: £180
Lot 722
A wonderful example of a 1920s beaded flapper dress having tightly worked sequin detailing throughout, no fastening.
Sold: £220