A good weekly sale with a variety of items leading the sale from Viennese porcelain to cigarette lighters.
One item that stood apart and took a high auction price was a mid century studio pottery lamp. From the studio of Bernard Rooke came the totem lamp base an impressive piece of studio pottery formed of several individual parts layered together hence the name totem. An unusual style of design often called Brutalist for it's imposing and rugged aesthetics often taking inspiration from naturalistic forms.
Rooke designs have been growing in popularity both as ceramics and works of art, his work has been displayed in many museums and gallery's including the V&A.
---
Lot 108
A Vienna porcelain figural, puce and gilt decorated coffee set, comprising coffee pot, sucrier, six coffee cans and saucers and circular tray, under glazed blue beehive mark to base.
Sold: £260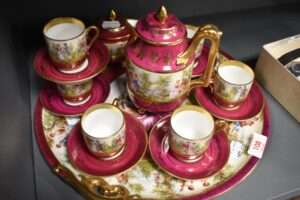 Lot 144
A good collection of early 20th and mid century cigarette lighters and cigar cases including Thorens 935 white metal and Dunhill
Sold: £260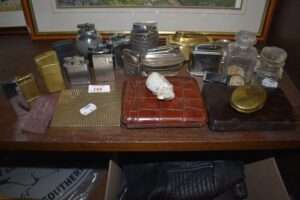 Lot 60
An impressive mid century studio pottery totem style lamp base attributed to Bernard Rooke 70cm tall approx
Sold: £200
Lot 198
An impressive late Victorian centre piece porcelain oil lamp, having mythical fish with cherub rider below floral decorated well in an ivory and gilt ground with Greek key base 48cm tall without glass globe
Sold: £180
Lot 63
A group of six Moser 'Rowland Ward Safari' pattern wine glasses, each engraved with African animal scenes
Sold: £160