A buoyant sale in the instrument section with the penultimate consignment from the recent collection of guitars from mainly single owner collection.
---
Top price was a modern American Eagle electro acoustic by Gibson which sold for £780, other guitars of note (pardon the pun) included a Mexican Fender Duo Sonic which sold for £280 and a vintage Harmony at £185.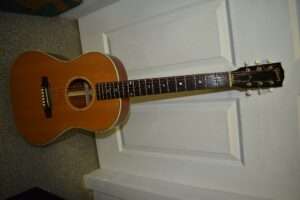 Violins/fiddles included a traditional violin/fiddle having two piece 14′ back, stamped Stainer with lion heads headstock which sold for £500, and a one piece back violin labelled Salvator, Paris which fetched £400.
A Thomas Buchanan Mandolin sold for £500, acoustic pianos are much more affordable of late, with digital versions improving and proving a more convenient alternative for most with an early 20th Century baby grand going for a mere £320.