Almost every house has one and in some cases there could be one in every room – I'm talking about clocks. Our busy modern lives are led by time often down to the minute rushing from one place to another.
The earliest types of domestic clocks were wall mounted weight driven often with iron and wooden working parts. These were reserved for the nobility of the time and it wasn't until around the 1600's the clocks became widely available and started making their way into middle class properties.
We had a similar early example of clock making in our sale this week lot 212 and after some heated bidding which ended with a high result for the client, and this 300 year old clock will find its way back onto some ones wall to enjoy as times moves on.
---
Lot 106
A late 19th century Chinese 'Famille Vert' pottery vase, of waisted ovoid form, decorated in polychrome with figures on horseback and rickshaw within a landscape setting
Sold: £1,000
Lot 212
A part 17th century brass, steel and iron 'hook and spike' lantern clock , with finial topped strapped-crown enclosing the bell (now detached) over fret-cut surmounts and finials, the chapter ring with Roman hours enclosing engraved detail and single marker/hand, posted steel work appears original, some adaptations including replacement of crown wheel with anchor escapement, sold with oak suspension bracket, weight and pendulum.
Sold: £880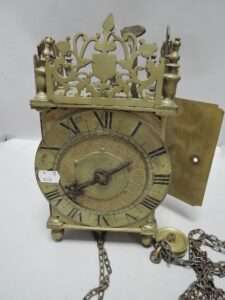 Lot 224
A 19th century Chinese 'Famille Noire' baluster vase, decorated with flora & fauna within repeating bands, approx 42cm tall, unmarked
Sold: £720
Lot 111
A large 20th century Chinese crackle-glazed floor vase, of baluster form, decorated in polychrome with rampaging warriors , embellished in gilt.
Sold: £660
Lot 33
Two 20th century fine Japanese cloisonné baluster vases having samurai scenes with dragons and mountainous landscapes
Sold: £560