A good weekly sale of antiques and fine decorative wares was helped along with a private collection of Pilkingtons Lancastrian Pottery.
A company steeped in history with a strong local connection. Originally founded by four brothers tired of coal mining, having branched out into tile making and ceramics they soon grew in size and popularity.
Developing several unique glazes and a wide range of designs as they hired some of the top ceramicists and chemists of the time.
Using the name Lancastrian due to Lancashire location of the factory their wares are still very popular and sought after as fine examples of late arts and crafts design.
---
Lot 40
After Maurice Blik, an impressive horse head resin sculpture of abstract stylee entitled Aztec
Sold: £450
Lot 58
A Pilkingtons royal Lancastrian vase,circa 1920, of squat baluster form having mottled blue gloss glaze.
Sold: £320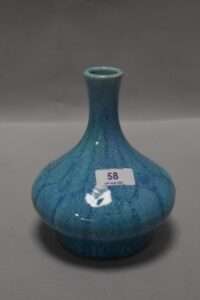 Lot 67
A Pilkingtons Lancastrian pottery vase having crystalline glaze possibly after William Bray
Sold: £270
Lot 30
An early 20th century Edison Gem phonogram sold with cold moulded records, Trumpet having painted lily design on pale mint ground
Sold: £210