Another eclectic mix of antiques and collectables were up for offer and finished on Sunday (3rd April). Entries were consigned from Cumbria and Lancashire via house clearance and private vendors.
The prices achieved reflect the market for quality, rarity and style.
---
The top price after fervent bidding
was £7500 (plus fees) for Lot 103: A 19th Century mahogany-cased brass travelling compound monocular microscope.
The interior comprised various fitted compartments housing specimen slides, cone, six Lieberkuhn, objectives, and the stand had a rack and pinion adjustment.
Thought to be by renowned scientific instrument maker George Adams, with over 100 bids this lot created the buzz we at 1818 thrive on.
Another famous name you will probably be more aware of is Royal Crown Derby, a perennial favourite with our bidders. Lot 50: Nineteen pieces of Royal Crown Derby 1128 Imari pattern teawares, together with a Royal Crown Derby 'Old Imari' pattern Coffee pot, Sugar and Cream didn't disappoint with bidding up to a healthy £600.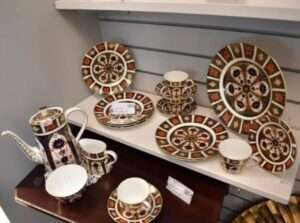 An unusual lot which achieved £350, from the same source as the microscope, was Lot 244: An impressive and large copper and brass cheese kettle. Now normally repurposed as a log or coal store. As the fuel crisis bites, I expect a demand for useful open-fire related items such as this.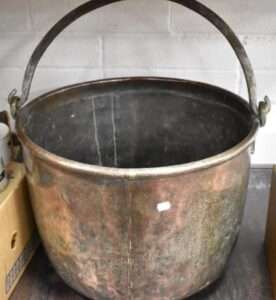 A book-slide or stand may not appear unusual, until it happens to be made with exotic woods such as coromandel.
Lot 21: A Victorian brass-mounted coromandel book-slide, the lancet-form ends with fret-cut and incised brass, shone through to reach £145. Maybe a perfect companion for lots bought in our Antique and Rare Book sale which finished on the same night.
Current online auctions: 1818auctioneers.co.uk