A varied silver sale resulting in a number of registered bidders vying for lots with strong bidding resulting in 82% of the items in the sale being sold.
---
Lot 1170
A loose canteen of Continental white metal cutlery caused excitement with speculative bidding reaching a hammer price of £520 (est. £150-£200).
Lot 1093
A silver spirit kettle was sold over estimate (£500-£800) at £560 as unusual to find such a specimen intact.
Lot 1088
A large silver Art Nouveau trophy was again keenly bid on resulting in a final price of £640 (est. £500-£800) a quality piece that had obviously been a prize position as it has it's own wooden carry case.
Lot 1115
A Spanish silver articulated fish was caught by a lucky buyer for £185 (est. £100-£150) This was another quality piece showing super workmanship and swam into the auction in a box of oddments.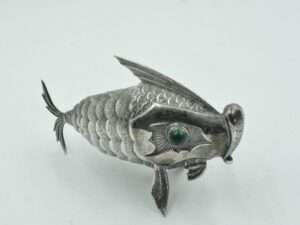 Lot 1024
A small silver tankard was sold for £125 (est. £70-£100). Small tankards are generally popular as make great christening presents if not too highly engraved.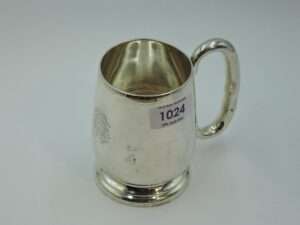 Lot 1098
Five pieces of Georg Jensen silver with an estimate of £80-£120 sold over estimate for £140, always a very collectable name and much sought after.