The First Sale of 2022 got of to a great start with the following highlights.
---
Lot 647
An album of mainly used Queen Victoria Penny Blacks and Two Pence Blues Stamps including 20 plus 4 margin Penny Blacks all plated 1b-8, Penny Blacks on Piece, 5 Penny Blacks on Covers includes plate 16 superb re-entry on One Penny Rochdale 3rd August 1840, seven Two Pence Blues plate one, one is four margin, page of plate 5 and plate 6 2 letter Two Pence Blues, Two Pence Blues page of plate 7, plate 8, plate 9, row A,B,C,D,E,F,G,H,I,J,K,L,M,N,O,P,Q,R,S,T, plate 12,13 x5,14,15, approx 27 pages of Queen Victoria Stamps 1870-1892 includes Postmarks, Overprints 1883-84 2 Shillings & 6 Pence x2, 5 Shilling, plus 8 pages of Edward VII, Queen Victoria Stamps well noted and plated, needs viewing.
Hammer Price: £4,300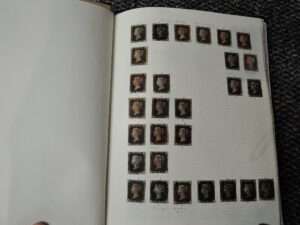 Lot 640
A collection of 36 Royal Mail Special Stamps Year Books 1984-2017, 1-34, extra 1984 and 1993 Books all appear complete.
Hammer Price: £640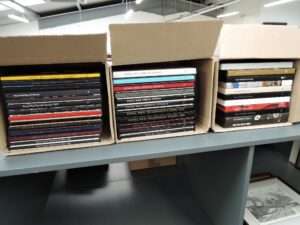 Lot 662
A box containing 400+ small stock cards of Commonwealth Stamps, mint & used, early stamps, very little if any modern, very high catalogue values seen includes, Antigua, Barbados, Bermuda, Honduras, Virgin Islands, Burma, Ceylon, Dominica, Falkland Islands, Cape of Good Hope, South Africa and Colonies, Northern Rhodesia and Southern Rhodesia, Uganda, Egypt, Nigeria, Somoa, Seychelles etc.
Hammer Price: £520 – this lot formed part of a collection selling for a total of £2500 in 7 separate lots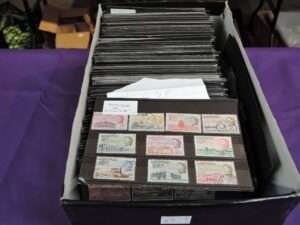 Lot 648
A collection of Queen Victoria and Edward VII Mounted Mint Stamps on stock cards, 1864-1910 including 15 Penny Reds letters in four corners, 3 pairs, 1883 Halfpenny to Nine Pence, 1887 Halfpenny to Sixpence, 1881 One Penny x21, 1880-81 Halfpenny to Three Half Pence x13 stamps, 1855-57 Six Pence Specimen, 1881 Bluish Lilac, Edward VII Halfpenny to One Shilling.
Hammer Price: £480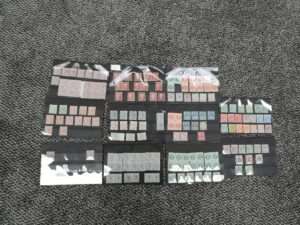 Postcards & Cigarette Cards
Lot 678
A collection of Cigarette & Trade Cards, in seven albums and loose, including Cricketers, Footballers, early 20th century and later, Ogdens Pugilists in Action seen.
Hammer Price: £250
Lot 680
An album of WW1 Military Post Card, approx 300 cards including 50 Past Field Censor Cards and Field Post Office Cancellations.
Hammer Price: £195