This weeks sale was led by a substantial collection of oriental and Japanese works of art.
A collection which must have been amassed over a life time was a joy to curate and catalogue.
Several of the top selling items could have been used in religious rituals or gatherings and could have held a special place in social history.
---
Lot 10
An impressive bronze Japanese temple censer or incense burner having incised decoration of fantasy landscape with twin dragon handles on four carp base with samurai figure atop, possibly relating to the mythology of Sakata Kaido-maru (kintaro) 65cm tall Meiji period
Sold: £4,050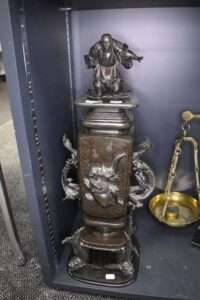 Lot 63
An antique detailed and carved wooden figure or totem of Indian god Kalinga Narthanam, dimentions 27cm x 16cm x 4cm
Sold: £760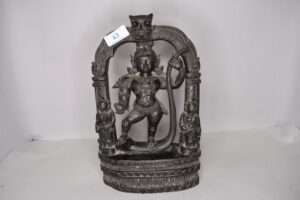 Lot 119
A set of three Chinese silk panels showing phoenix over ocean and night sky, central panel of similar imagery with elaborate detail of bats in night sky
Sold: £660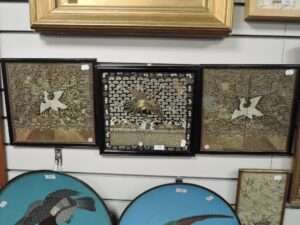 Lot 82
Four box wood carved Japanese figures including immortal and mythical figures
Sold: £480