This auction featured an important sale of a porcelain beaker, believed to have been presented to Lord Nelson himself or close family members after his victory over the Dutch during the battle of the Baltic.
The significance for the cup comes from it's scarcity as very few pieces from the set survived and the rest was dispersed through an antiques dealership during the 70's after having been passed down through the family.
A historical figure still with a huge following he was one of the earliest celebrities commemorated with memorabilia which still has a huge collectors market.
We have a similar piece of Nelson memorabilia coming up for sale of the 20th Feb lot 6 a commemorative pearl ware jug celebrating Horatio Lord Nelson.
---
Lot 31
A porcelain beaker or cup being hand decorated marked Nelson 2nd April Baltic. No handles, inscribed with 'The glorious 1st august,14th february' – measures just shy of 10cm height.
Sold: £3,200
Lot 61
A good quality reproduction Jaques staunton chess set
Sold: £420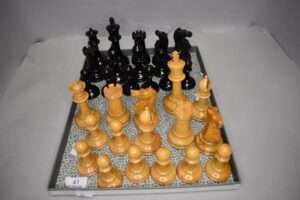 Lot 11
A late Victorian portable tea caddy having fitted compartments and storage drawers with spirit in oak case
Sold: £410
Lot 57
A pair of Zeiss Dailyt 8 x 56 B binoculars in good condition with original box
Sold: £350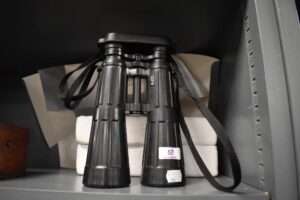 Lot 129
A selection of hand made and woven Asian or African barkcloths
Sold: £320