Quality is the way forward with two lovely vintage Leica M3 cameras leading the way in the sale and a Leica IIIf also doing well.
A Canon Lens received some very competitive bidding towards the close of the sale. Two Fuji GSW690 III 6×9 Professionals also well above expectations.
The next sale starts on 10th March and already have some interesting Leica pieces for this sale.
If you have some quality camera to sell don't hesitate to get in touch with bill@1818auctioneers.co.uk
---
Leading prices:
Lot 611
A Leica M3 Camera (998060) with Summicron 50mm lens (1533267) in original case.
Sold: £1,720
Lot 643
A Canon EF 100-400mm zoom lens, a Canon 75-300mm zoom lens in soft cover with original box, a Nikkor 85mm, a Nikkor 43-86mm zoom lens and a Mayfair Sankor Telephoto 200mm lens
Sold: £1,520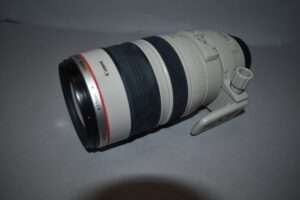 Lot 610
A Leica M3 camera (801576) with Elmar 90mm collapsable lens(1188783) in original case
Sold: £1,100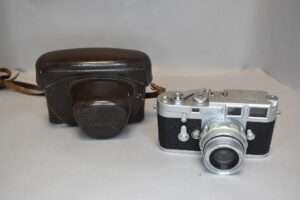 Lot 612
A Leica IIIf camera (656136) with Summarit 50mm lens (1055492) screw mount in original case
Sold: £620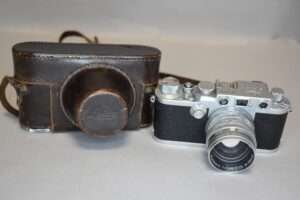 Lot 650
A Fuji GSW690 III 6×9 professional camera in original box
Sold: £560
Lot 649
A Fuji GSW690 III 6×9 professional camera in original box
Sold: £520