A good AV&C auction for 16th January, and a promising start to 2022 after the Christmas break.
There was a good mix of modern and antique items in the auction which resulted in some good prices.
Sales of tea and dinner services were good with prices reflecting the quality and condition.
An usual oil painting of a racing pigeon did very well; it's a niche collecting area, which can often yield high auction prices.
---
Lot 36A
An oil painting of 'Jersey Pilot' Racing Pidgeon with several wins to his name by the artist J Browne, 1923.
Sold: £660
Lot 182
A Signed copy of Harry Potter and the Goblet of Fire by J.K Rowling.
Sold: £420
Lot 19
A selection of vintage fishing equipment including bags, reels, cast box and more, including Hardy Bros the 'perfect' fly reel.
Sold: £360
Lot 173
An extensive collection of Spode in the Rockingham pattern; plates, platters, tureens and more included.
Sold: £290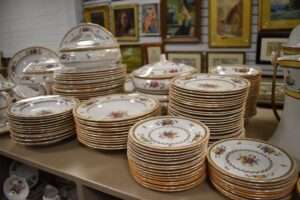 Lot 29
A selection of vintage brass ware having middle eastern designs, including vase and bowls.
Sold: £190