The final sale of the year included an excellent single owner collection of Stamps & Postcards that sold in 20 lots for over £7,500.
---
Lot 1233
A Simplex Album containing mint & used commonwealth Stamps, mainly 1800's to George V, with very high values and Specimen Overprints including Nyasaland Protectorate 1/2p-10 shilling mint, Nyasaland Protectorate 1/2p to £10 used, Nyasaland Protectorate 1/2p to £1 mint, Edward 1908 Nyasaland up to £1 mint and used, British Central Africa 1903 to £1 mint, British Central Africa 1898 internal Postage 1p x6 used, British Central Africa 1897 to £1 used, to 4 shilling mint, 1896 to £1 used, to £1 mint, 1895 to £1 used, 1895 to £1 mint, 1895 1p to £10 Specimen overprint mint, Tanganyika to £1 mint, Southern Rhodesia George V 1/2p to 5 shilling mint, Gambia 1/2p to 3 shilling mint , must be viewed.
Sold: £2,050
Lot 1240
A folder of Australia Stamps, two sheets of mint, sheet 1 1914 watermark 5 perforation 12 2d to 5 shilling, sheet 2 1915-28 2d to 10 shilling, one 10 shilling is unmounted.
Sold: £760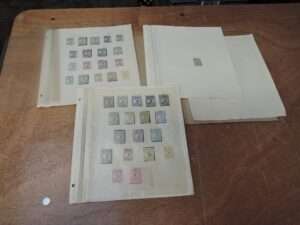 Lot 1227
A collection of Gambia Stamps, mostly mint, Queen Elizabeth to George VI, high values, needs viewing, all on pages.
Sold: £700
Lot 1256
An excellent Postcard Album of WW1, Gallipoli, Egypt Palestine, many real photos of troops, damage, dugouts, camels, prisoners, executions, aircrafts, ships, natives etc.
Sold: £580
Lot 1225
A collection of Nyasaland Stamps, mainly George V and George VI with sets up to £1, needs viewing.
Sold: £460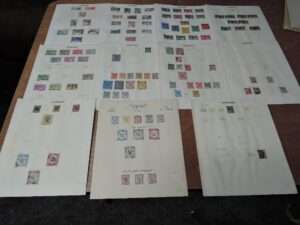 Lot 1236
A small stock book of early Commonwealth Stamps, mainly Nyalaland and British Central Africa, mint & used, high values seen including Edward £1 mint, George V 2/6 x2 mint, 1898 Internal Post 1p x4 used, 1897 one penny on three shilling black and sea green double surcharge.
Sold: £440