Highlights from our last militaria auction of 2021:
---
Lot 422
An album of Military Cloth Badges including Airbourne, Civil Defence, Signals, German Minefield etc, also pamphets to all Briish Commonwealth ex Prisoners of War, Notes from Theatre of War, Headquarters in Memoriam, Silk Handkerchiefs and Postcards.
Hammer £490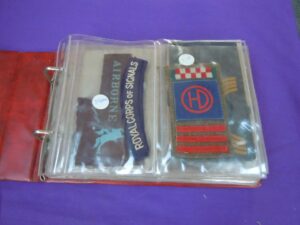 Lot 413
A possible WW1 Military Saddle on later metal wall bracket.
Hammer £270
Lot 449
A WW2 War Department Aircraft Identification Telescope/Rangefinder A.A. (Anti Aircraft) Mk. III dated 1942, numbered 3992 OS593GA.
Hammer £260
Lot 401
A Kings Own Border Regiment Drummers Uniform belonging to SGT Davies consisting of Jacket, Trousers and Topee Helmet, jacket has buttons and stripes, Breast Cord with Tassles.
Hammer £150
Lot 423
A framed limited edition print after Robert Taylor, Concorde Formation, 288/850 signed by three pilots including Brian Trugshaw and Brian Walpole.
Hammer £150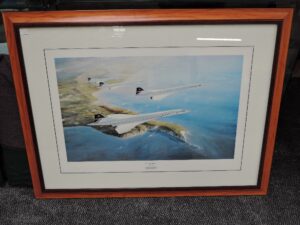 Lot 437
A possible 1821 pattern Light Cavalry Officer's Sword by Joseph Barlow of Litchfield, repainted hilt and scabbard and a possible sergeant major's stick having leather strap.
Hammer £145