Hammer highlights from Vintage toys and Models 5 auction, which ended on Sunday 3rd October.
---
Lot 435
A 3/4 Inch Scale Michael Holden Kit Built Live Steam Traction Engine having single cylinder engine, pole reverser, built to a good standard with plaque numbered 99, length 36cm, height 23cm.
Hammer £660
Lot 430
A Hallmark Models Inc American Brass HO scale 1 & 10 Bulldog Diesel Santa Fe Locomotive, in original box.
Hammer £440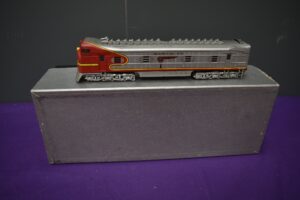 Lot 539
A wooden hand built radio controlled Live Steam Boat having copper and brass boiler, on wood stand, with controller, length approx 100cm.
Hammer £310
Lot 592
A modern traditional style Rocking horse made by Ron Wood of Lancaster, in dapple grey with green and brown saddle with real horse hair mane and tail, on pine swing action base with plaque dated Christmas 2000, height 120cm, length 150cm.
Hammer £290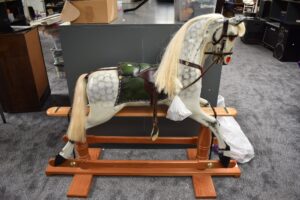 Lot 606
Twenty Nine Vanguards by Hornby and Lledo diecast vintage Cars including Morris Minor, Ford Popular, Triumph TR7, Peugeot 205 etc, all boxed.
Hammer £290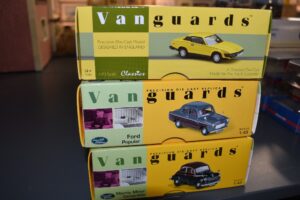 Included in the sale were various lots of retro computers and gaming machines and all sold very well
Lot 470
A Sinclair ZX Spectrum 48K Personal Computer with power cable and internal packaging in original box along with a Nintendo Table Top Donkey Kong JR game with instructions in original box.
Hammer £200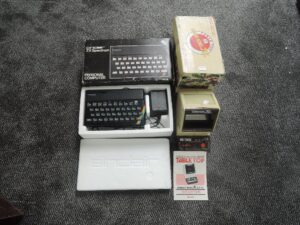 Lot 587
A Sega 16 – Bit Mega Drive Console with Mega CD II along with controllers and power supply along with 16 game cartridges including Micro Machines Turbo Tournament 2, Street Racer, Sonic Spinball, Chiki Chiki Boys, Mutant League Hockey, Sonic, Fifa Soccer, European Club Soccer, Alisia Dragon, General Chaos, Street Fighter II, Sonic 2, Two Crude Dudes, Chakan, Wiz N Liz, Eternal Champions and cd's Sega Classic Arcade Collection, Tom Cat Alley, Sol-Feace, some cd's missing.
Hammer £190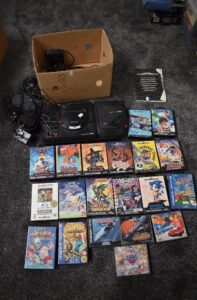 Lot 506
A Atari Jaguar 64 Bit Interactive Multimedia System with Cybermorph cartridge, power supply and controller with internal packing and instructions present in original box along with Team Tap Adapter also boxed.
Hammer £140
Lot 404
A Sega 16 Bit Mega Drive Console with 12 game cartridges, Sonic 2 no manual, VJ Boy, Zero Tolerance, Strider part manual, Dune II Battle For Arrakis, James Bond The Duel, Pig Skin no manual, Michael Jackson Moonwalker, Global Gladiator, The Immortal, Gynoug and Pitfall no box or manual along with Sega Master System cartridges Heavyweight Champ, World Soccer, Speedball, Jungle Book no manual, Vigilante, Space Harrier, Fantasy Zone no manual, Action Fighter no manual, Altered Beast no manual and Great Golf no manual.
Hammer £130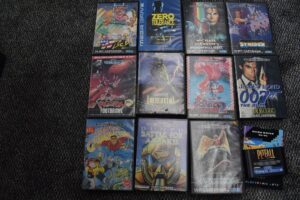 Lot 586
A Sega Dreamcast Console and controller, both boxed along with games including MSR, F1 World Grand Prix, Sonic Adventure, Soul Calibur etc.
Hammer £100
Lot 505
A 1996 Sun Soft Sega Mega Drive 16 Bit Game Cartridge, The Pirates of Dark Water, in case, missing instructions.
Hammer £90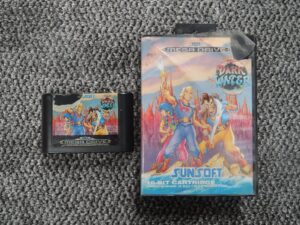 Lot 583
A Apple Macintosh SE/30 Home Computer model no M5119 with mouse, power supply and reference book.
Hammer £65
Lot 490
A Sinclair ZX Spectrum Personal Computer 48K Ram in original box, Spectrum Joystick Interface in original box, Spectravideo Joy Stick, cassette games Special Delivery, Pool, World Series Baseball, Chess, Horizons, Flight Simulator, Gremlins 2, World Cup, Delta Wing and Stage Coach etc.
Hammer £60
Lot 588
An Amstrad CPC 464 Personal Computer with screen and keyboard along with game cassette including Turrican, GhostBusters II, Loopz Collection, 4th Dimension, Lord of the Rings Game One, The Tengen Trilogy etc.
Hammer £60