Hammer highlights from the Militaria 4 online auction, which ended on Sunday 12th September.
---
Lot 811
A George III Brass Silver Gilt Military Shoulder Plate still showing signs of silver gilt in places for The XXV Kings Own Borderers with Minden above Crown, George III in oval, Galloping Horse in Oval with Sphinx above Egypt.
Hammer: £2350
Lot 841
A possible 18th century Scotish Broadsword having steel basket handle with carved wood grip, blade length 94cm, overall length 110cm, no scabbard.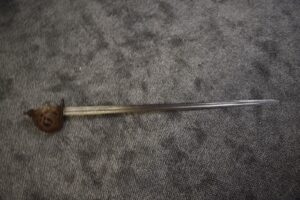 Hammer: £620
Lot 835
A collection of 9 miniature German Bayonets, six are miniature WW2 Dress Bayonets, one miniature Luftwaffe bayonet marked Solingen D.R.G.M one having ornate eagle head, one has portepee knot, eight with scabbards.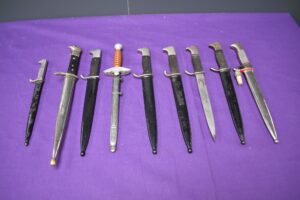 Hammer: £380
Lot 804
A Falcon SWP 2700 PSI .22 cal 94937 Air Rifle with silencer and Webley 4 x 40 scope fitted, in canvas carry case.
Hammer: £260
Lot 843
A mid 19th century German Naval Cutlass, marked to blade A&E Holler Solingen, blade length 66cm, overall length 8ocm, with leather and metal scabbard.
Hammer: £230
Lot 819
A WW2 RAF Observer's and Air Gunner's Flying Log Book to W/O DS Stocks 1451346 LAC, starting with Radio School 17/11/42 through to last date of 28/5/46, during WW2 Donald Stocks was a Wireless Operator/Air Gunner and was on many flights as this log shows also a photograph of Donald, shot down by friendly fire Christmas Day 1943, printed photographs of crew, Flying Operations and an article written as an obituary, Pilots Notes for Wellington 2nd edition volume also included.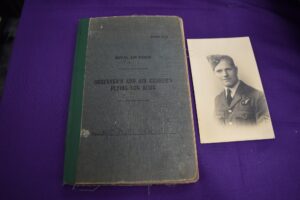 Hammer: £220