A good sale total with high results from quality antiques and home wares.
Dinner and tea services still being popular with prices reflected by the desirability of certain pattern designs. Natural history and taxidermy appears more and more popular if the stock is good.
---
Lot 220
A vintage taxidermy study of a stags head having glass eyes with eight point antlers in fine condition.
Sold: £210
Lot 31
A large farm house style beech wood mixing bowl and similar kitchenalia.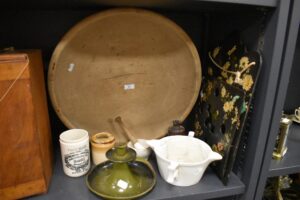 Sold: £195
Lot 9
A fine Victorian tea caddy having walnut burr inner and outer casing with original silvered interior and glass well with HM silver caddy spoon.
Sold: £185
Lot 154
A walnut burr casket style tea caddy having fitted interior and two similar Victorian examples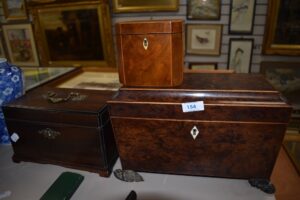 Sold: £180
Lot 162
A wall mounted fusee clock having arts and crafts style carved frontage with vine and fruit leaves.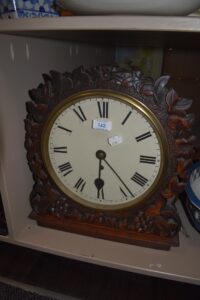 Sold: £165