Hammer highlights from the 'Fine Pictures and Prints including Lakes and Contemporary Art 15' online auction, which ended on Sunday 19th September.
---
Lot 471, a delightful oil painting by Edward Hersey of a farmyard, almost photogenic in quality selling for a highly visual £1820.
Lot 411, a watercolour by William Woodhouse, of a galleon at sea, was not all at sea at a price at £130.
Lot 431, a watercolour, by Lancaster artist, Reginald Aspinwall, of a Harvest Field, reaped a price of £150.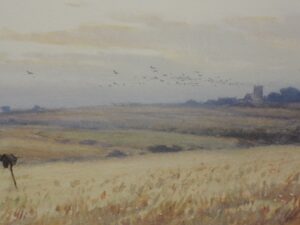 Lots 432 and 435, both attributed to another Lancaster artist, and of local vistas, sold for £100 and £180.
Lot 487, a watercolour of a lady in period costume admiring a flower, was indeed admired selling at £200.