The picture auction at 1818 auctioneers, ending on Sunday 25th July, was a small but perfectly formed offering.
---
Lot 485, a large oil painting by Ros Cuthbert, depicting the bell ringers of Winscombe in action, sold at £960. This saw interest from the parish itself, with local folk recognising family and friends.
Lot 462, a watercolour by William Henry Hunt – still life, found a live buyer at £300.
A selection of lots of horse racing interest found buyers prepared to bet over £250 collectively.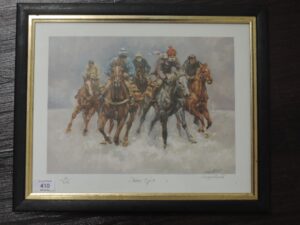 Many lots selling at £50 and less, paid homage to buying affordable art, where attractive but lesser named artwork finds buyers admiring the form, rather than the name.
So lot 461, a set of four acrylic paintings on silk, Indian bird studies, flew for just £50.