The picture auction at 1818 Auctioneers, ending on the 15th August, was a strong summer offering with some interesting artwork available.
---
Lot 1061, a woodland landscape watercolour by John Nash, was not one of his greater artworks, being unfinished and work in progress, but sold at £2950; a price normally given for his higher end paintings.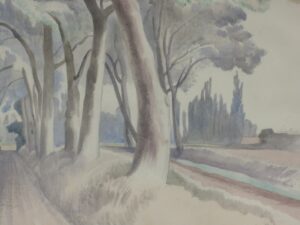 Lot 1028 was an oil painting by Ian Parker, an unusual farmyard scene, found a country lover at £105.
Lot 1057, an oil painting, by Theodore Howard Somervell, climbing in Skye, a good local artist revered by mountaineers, selling at £620, and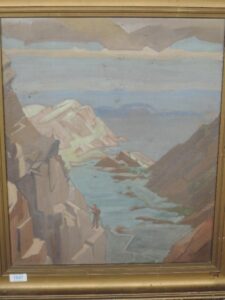 Lot 1037, an oil painting, by Clarence Roe of a mountain stream, sold at £410 – both reminders to get out walking up the hills during the summer
Lot 1045, an oil painting, artist unknown of Dunnottar Castle, perhaps invoking memories of summer holidays passed, selling at £470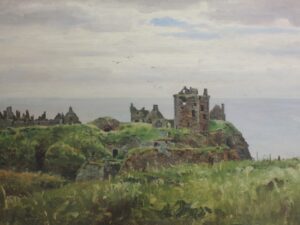 Lot 1083, an oil painting Schenck of shepherds, selling for £580, and similarly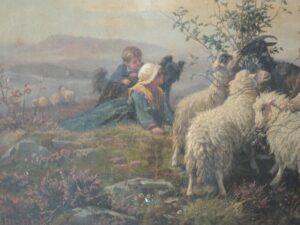 Lot 1084, an oil painting, indistinctly signed, travellers at rest, found a resting place at £390 – both showing that quality 19th century paintings are still admired
Lot 1088, an oil painting by Frank Thomas Copnall, a portrait study of a respectable lady, by a noted artist, but such pictures are not normally coveted, this however making a respectable £880