This was a fair sale with quality dinner and tea services making good money. Antique and new items achieved similar results.
Mid century modern items are still desirable and making good prices with Art glass being as popular as ever.
Motoring accessories are selling well, often making over estimate odds. This all bodes well for out upcoming motoring and advertising sale, to be held in the upcoming weeks.
---
Lot 138: A large collection of Wedgwood 'Kutani Crane' including coffee cans,cups and saucers, bowls,plates and more, around sixty three items in total. All pieces in this service appear new and unused – £290.
Lot 4: A selection of Doulton Lambeth table wares havine HM silver rims and fitments including water jug tea pot sugar bowl etc – £230.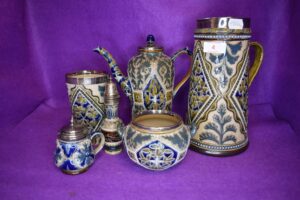 Lot 126: A collection of colourful art glass vases and similar – £85.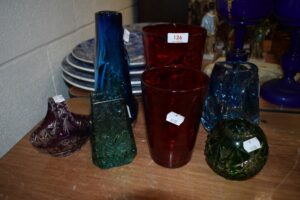 Lot 103: A large collection of Victorian Minton / M & co Chinese key dinner service having floral pattern and key motif, tureens, plates, serving bowl and more, around sixty eight items – £80.
Lot 71: Four motor cycle back packs or sacks by Harley Davidson – £70.