A wonderful selection of classic vehicles, which were an honour to offer at 1818 Auctioneers all achieved good prices and found new homes. Following this sale we have been approached to conduct a sale of Vintage Automobilia and Advertising items including signs for more information contact either Garth or Bill.
---
Lot 1001
A classic motor car. An AC Buckland Sports Tourer, GFY707, manufactured 1949. The vehicle recently passed it MOT although not required. It's not clear how many of these cars were built as there are no factory records, but it's estimated that about 80 cars were built from 1949-53. We do know from the AC owners club that this car was the 6th built.
The Buckland shared all of its running gear with the 2 litre saloon from the six-cylinder triple carb, overhead camshaft AC engine, Moss gearbox to the ENV rear axle. Registered on the 1st January 1950 in Southport little is known about the car's history, however from 1969 to date the car has history. The car was purchased by the vendor in 2014 as a restoration project having been off the road for decades. A complete documented nut and bolt restoration followed which included chassis, bodywork, interior and all the mechanics.
Finished in Opaline/British Racing Green with cream leather interior. The thousands spent on the vehicle show in the now showroom condition you see it in today. The car has only covered 350 miles since the restoration. There are also some spares with the car and a memory stick containing a fully documented photograph album of the restoration from being dragged into the workshop to what we see today.
Sold: £26,000
Lot 1002
A classic Bedford truck. A 1951 Beford K Type 30-40cwt Registration number NSJ753. It has a 6 cylinder 3519cc petrol engine, 12v electronics and a 4-speed gearbox. With a mind-blowing 50-55mph top speed. Brown with Red chassis, running well with no problems paintwork good with no rot (some crazing to lacquer on bonnet).
The truck comes with four good wheels, jack, wheel brace, workshop manual and drivers handbook.
The registration date on the V5 is 03/03/1998 as it had to be re-registered.
A 70-year-old in great condition being sold after 25 years of ownership the time has come for someone else to have the pleasure of ownership. Beautifully restored to show and exhibition standards this vehicle is worth a view.
Sold: £12,200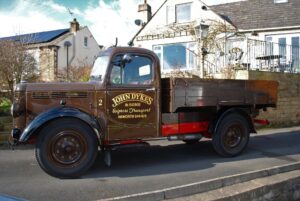 Lot 1003
A classic Jaguar Car. A silver Jaguar XK8 4litre V8 convertible,T861CBD registered on 07-04-1999, chassis SAJJGAFD3AH038436 engine NC9902122124 first. MOT'd until 27th July 2021, odometer reading 63540miles. One former keeper with a full-service history. The first owner was an accountant and sold to to currant keeper in April 2019 since then has done less than 1000 mile. This is a beautiful and well-cared-for example of the XK8. Well worth a look you won't see a better one.
Sold: £9,300
Lot 1005
A classic motorcycle. A Scott Flying Squirrel SV7033, manufactured 1929, VIN No2612, Engine No Z9928, 498cc. This is a beautiful rare bike with show potential a joy to own and ride. The Squirrel is in excellent and comes with a current V5C. Well worth a look if you love quality.
Sold: £7,700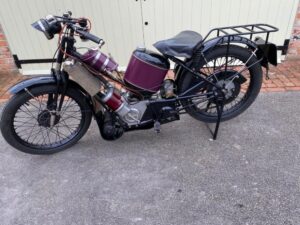 Lot 1004
A rare Harley Davidson SS 125cc motorbike registration OUG160P, registered 10/5/1976, with a 125cc two-stroke engine. In the early 70's the influx into America of well-built small Japanese motorcycles started to eat into Harley's market. They decided with their then Italian subsidiary Aermacchi to build smaller models. Very little was written by the biker scribes about these bikes and appears to be brushed over in Harley Davidson history. Though last on the road in 2005, old MOTs showing 3837miles.
The bike comes with new tyres, tubes, new chain, new battery, new indicators, workshop manuals and riders manual the bike runs and rides.
Sold: £2,250