Three lots made over £500 at 1818 Auctioneers second coin sale of the year. A collection of Irish banknotes with a total face value of £535, were sold for £700.
Eight UK coin sets representing each year between 2013 to 2220 made £640. And a collection of 18 UK uncirculated year coin sets realised £520.
Other highlights were five other lots which made over £300 including a UK 2009 Royal Mint uncirculated coin collection. It contained one of the scarcest UK coins in circulation – a 50p piece with a design by Christopher Le Brun RA featuring the famous Chinese Pagoda at the Royal Botanic Gardens, Kew – entwined by a decorative leafy climber. It was released to celebrate the 250th anniversary of the Gardens at Kew. The lot attracted much interest and sold for £300.
---
Lot 855 – A collection of Northern Ireland and Ireland Bank Notes, mainly Northern Ireland, from £1 – £100, various conditions from EF downwards including First Trust Bank, Provincial Bank of Ireland Limited, Ulster Bank Limited, Northern Bank, Central Bank of Ireland, Allied Ireland Banks Limited, total face value £535 – £700
Lot 846 – Eight UK Annual Coin Sets, 2013-2220 all appear complete with outer sleeves present – £640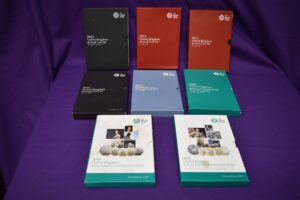 Lot 843 – A collection of 18 UK Uncirculated and Brilliant Uncirculated Year Coin Sets comprising, 1983, 1984, 1986, 1998, 2001, 2002, 2003, 2004, 2005, 2006, 2007, 2008, 2010 x3, 2011 x2 and 2012 – £520
Lot 810 – A George III Emergency Issue Dollar, A 1790 Carolus IV Spanish American 8 Reales Pillar Type with Peru Lima Mint Mark and Oval George III Counter Mark – £410
Lot 811 – A George III Emergency Issue Dollar, A 1793 Carolus IIII Spanish American 8 Reales Pillar Type with Bolivia Potosi Mint Mark and Oval George III Counter Mark – £380
Lot 880 – A George V 1915 Gold Sovereign – £320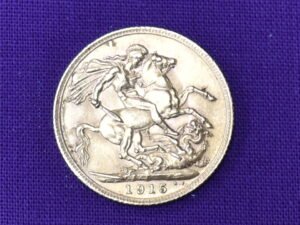 Lot 801 – A collection of modern GB Coins including £5 in folders, £2, £1, 50p, Northern Ireland Commonwealth Games £2 coin, 1992/1993 European Community Ministers 50p in folder etc – £300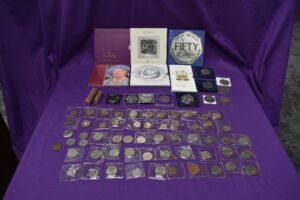 Lot 841 – A UK 2009 Royal Mint Uncirculated Coin Collection with Kew Gardens 50p present, 11 coins in total – £300