Sunday 18th April saw the end of another brilliant AV&C auction with an eclectic mix of quality lots selling at great prices.
Top spot was a very large deco style Shelley Service The Balloon Tree pattern in the Queen Anne shape.
Some nice oriental pieces sold extremely well as did beautiful ceramics including Ruskin.
An Arts and Crafts beaten copper and brass clock brought a good price as did an impressive German Bronze of a pair of Pheasants.
The next sale finishes on Sunday 25th Aril.
If you have any quality items to sell contact Annia or Garth on 015395 66201.
---
Lot 176 – An impressive art deco part tea and dinner service by Shelley in a hand decorated design reg no 723404 Queen Anne Balloon Tree vast majority in prefect condition little wear throughout – £800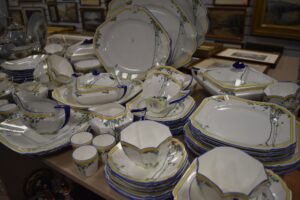 Lot 187 – A large standing Chinese export porcelain vase possibly depicting the eight immortals or similar ritual 46cm high – £400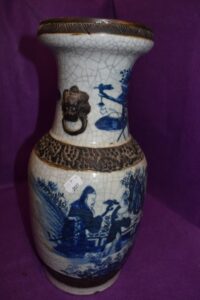 Lot 16 – A highly collectable Berlin K.P.M white art deco porcelain mask modelled by Herman Hubatsch, signed and dated 1930 – £370
Lot 76 – A colourful piece of art pottery having mythical beasts forming the two handles, initialled EW to underside, firing crack to one handle – £370
Lot 59 – An arts and crafts hammered copper and brass mantel clock having embossed snake to top, another curling around the enamelled face and two lions heads with rings to both sides – £330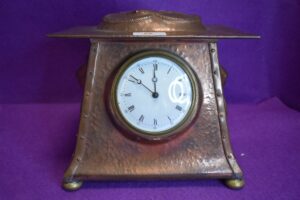 Lot 25 – A collection of 1960s German candle stick holders, designed by Fritz Nagel for Quist, having modernist design and the ability to be stacked and layered,a quirky and effective lot! – £310
Lot 202 – Emile Bruchon 1880 – 1910 `Larc en Ciel` Art Nouveau Bronze Lamp Base of a Lady bearing a torch – £270
Lot 3 – A mottle blue and beige vase having almost lustre like finish,marked Howsons 1913 to underside,and a 1931 dated Ruskin vase,signed W Howson Taylor and having bright yellow,orange and grey finish – £260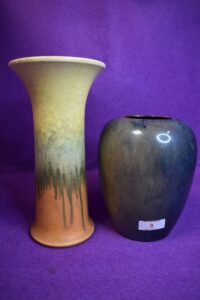 Lot 1 – An impressive original German bronze figure depicting a pair of pheasants, mounted on marble or similar base, signed Prof Poertzel – £250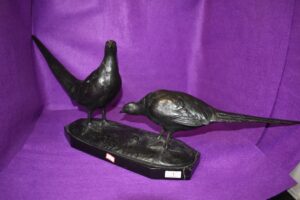 Lot 9 – A large vintage wooden cased North Eastern marine wall clock having substantial chain fusee movement. Shipbuilders, Wallsend to enamel face – £250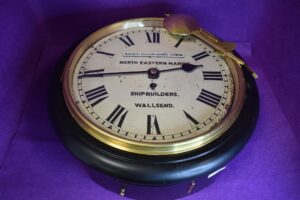 Lot 80 – A substantial art deco glass Czech vase 'Dans le foret' by Josep Inwald Barolac – £250