Another Sunday ends an awesome AV&C auction with a fine collection of modern Moorcroft and some good Beswick Figurines doing well. Quality tea services again are finding homes at satisfactory prices.
The star of the evening was four sandstone gargoyle face masks removed from a hospital in Ulverston when it was demolished. Also a rare corkscrew, the most unexpected top seller was a box of retro tea towels attaining £125. Look out for another installment finishing next Sunday night.
If you have items of quality to sell don't hesitate to contact either Annia or Garth. If you wish to have the contents of a house appraised why not give Bill a call via the office 015395 66201.
---
Lot 422 – A selection of carved sandstone corbels or gargoyle face masks having been removed from local Ulverston area each approx 17cm x 16cm – £340
Lot 695 – A selection of cocktail and drinking items including three Babycham glasses and a W Drury Castle st Liverpool corkscrew – £310
Lot 418 – A selection of antique porcelain plates and serving dishes in a Rockingham design having cream and gold ground with hand-painted floral decals – £150
Lot 586 – Three vintage workshop/Garage signs for Ford escort constructed on thin metal-backed on plastic – £150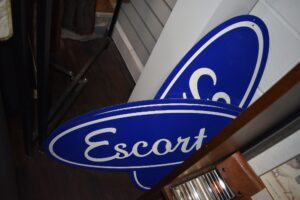 Lot 663 – A very large Moorcroft Tiger lily vase having cream and blue ground with lily pattern in ochre, green and terracotta – £135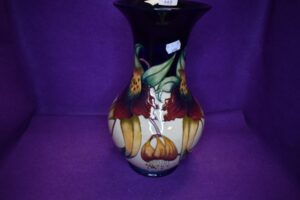 Lot 597 – Over fifty vintage and retro tea towels including souvenir and travel interest, all appear unused, some really interesting designs amongst this lot – £125