An excellent return in the furniture section this week with almost 90% selling with optimism among the trade with shops and antique centres set to reopen in the next couple of weeks alongside other retail on 12th April.
Top prices in the Antique section were £780 for a well proportioned 19th Century mahogany bow fronted chest (Lot 541) and an early 20th Century mahogany cheval mirror (Lot 473) which fetched £350 an Antique cottage farm house side table (Lot 409) in a provincial French design having chamfered and pegged legs under planked elm wood top, measuring 102 x 74cm went for £300.
A number of vintage shop fittings were in demand with an impressive array of glass-fronted drawers selling for £680 (Lot 455).
Good quality carpets and rugs continue to find buyers with a traditional room size rug/carpet square, approx. 305 x 240cm (Lot 607) selling for £310.
---
Lot 541 – A 19th Century mahogany chest of four long bow fronted drawers having brass drop handles and bracket feet, width approx 96cm depth 58cm height 84cm – £780
Lot 455 – Two sets of vintage shop/merchants drawers, having glass fronts, with deeper lower drawers, taller section is approx. 2metres in height and 47cm deep, each section is 90cm wide – £680
Lot 473 – An early 20th mahogany cheval mirror in the classical style having claw feet (as found) and quadruple column supports, height approx.162cm – £350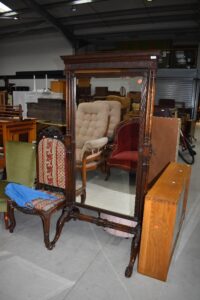 Lot 607 – A traditional room size rug/carpet square, approx. 305 x 240cm – £310
Lot 409 – An antique cottage farm house side table in a provincial French design having chamfered and pegged legs under planked elm wood top with drawer 61cm wide 102cm long approx. – £300